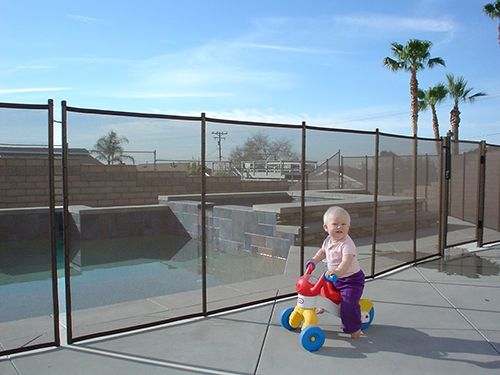 The Southern Nevada Health District published a brochure on drowning prevention that we here at Safe Defenses think every home owner should read and know about. While the information seems like a basic list of what we consider common knowledge, there is no doubt that the distribution of this information may be essential preventing drowning around the Las Vegas valley.
The A B C & D's of Drowning Prevention
A – Adult Supervision. Swimmers should always be under active adult supervision.
B – Barriers. Keeping children and pets at bay is a surefire way to prevent drownings.
C – Classes. Every member of your household should take swim lessons and know CPR.
D – Devices. All pools should have life jackets, rescue tools and safety drain covers.
Drowning Can Be Easily Prevented
Despite what many homeowners and parents believe drowning is a very common occurrence and often happens faster than most people think. Bare in mind that the most common drowning victim is a child age 4 or younger with the majority of fatal drownings taking place in a family pool, 70 percent of which happen between the hours of 2pm and 8pm.
Many victims never make a splash or sound, and it's generally because people don't realize how long many of the most commonly distracting tasks actually take. According to the SNHD the following common tasks may be long enough for an incident to occur:
Get a towel. This may only take 10 seconds, but this is long enough for a child to become submerged.
Answer the telephone. In the 2 minutes it takes you to answer the phone a child can become submerged and lose consciousness.
Answer the front door. The 4 to 6 minutes it can take to answer the door a submerged child can sustain permanent brain damage or even die.
Layer on the Protection
At Safe Defenses we believe that adding a safety fence or cover to your pool is the gold standard of year round pool safety. With so many fly-by-night companies offering the illusion of safety without actually being safer there are a few things that should be considered for your safety pool barrier.
Height and Spaces. A perimeter fence should be non-climbable, four-sided and at least 60 inches high in order to be effective. In the instance of isolation fences which separate the pool or spa area from the residence openings should be no more than 4 inches wide to avoid children from squeezing through and accessing the pool. Isolation fences should be no more than 48 inches high for a removable safety fence.
Close the Gates. While it may be considered a nuisance to have guests have to unlatch a pool gate for entry, propping pool gates open means that children can access the area too. Self-closing, self-latching fence gates with latches mounted above the reach of small children and combination locks are a recipe for safety. Also, be sure that gates open away from the pool to avoid malfunction.
All Covers Are NOT Created Equal. Unlike winter pool covers a solar cover or floating pool cover not only doesn't offer protection it can actually cause children to slip beneath them and become trapped, out of sight. When using a cover for your pool, be sure to consider the added safety, or dangers it may pose.
There are many ways to keep your source of summertime fun safe all year long. Download the Full SNHD Brochure Here. At Safe Defenses we can help. Contact us for a no obligation consultation to see just how easy it can be.